About Us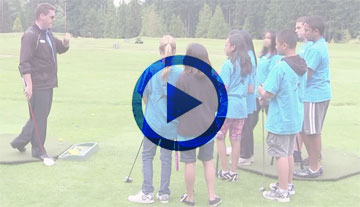 The UGC Junior Golf Society in partnership with KIDSAFE provides inner-city elementary school children with an introduction to the wonderful game of golf by providing the facilities, equipment, instruction and refreshments in a relaxed and supervised environment.

The idea of a "Junior Golf Society" was conceived by long-time golfer Norm Johnson. Norm played golf at University Golf Course for 70 years ... from 1936 until his death in 2006, at age 94. Golf greatly enriched Norm's life, and to show his appreciation he decided to "give something back".

With tremendous leadership from our former President, Art Charpentier, and encouragement from the executive of University Golf Club, combined with generous assistance from our sponsors and volunteers, a unique opportunity was created for inner-city boys and girls to experience the game of golf and to acquire skills and disciplines that will last them a lifetime.
Our program of delivering golf instruction to inner city kids has continued for 16 years. Close to 500 kids have participated in the program over this period. However, due to the Covid pandemic, we have not been able to run for the 2020 Spring, Summer and Fall sessions. Decisions about the Spring session, scheduled to begin in March 2021, will be made closer to that time. Some of the recent highlights:
supported KidSafe inner city school kids with this program for the majority of the 16 years, starting from inception of the Junior Golf Society
delivered golf instruction beginning in 2014 to the grade 7 classes of Grandview elementary school for the Fall and Spring sessions and beginning in 2019, delivered alternating sessions with the grade 7 classes of Strathcona elementary school
volunteered at the KidSafe Golf Tournament the last eight years.
donated surplus golf equipment in 2014 to BC Special Olympics and First Tee of Greater Vancouver
The Society is pleased to be able to continue providing these learning and personal growth opportunities to kids as they receive golf lessons from the UGC teaching professional, supported by our volunteers.