Sponsors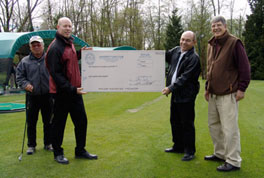 University Golf Course / www.universitygolf.com
Photo: Michael Mather, general manager of the University Golf Course, presents a grant to the UGC Junior Golf Society to assist the program of golf introduction for kids from the inner city schools. Michael Mather sits on our Board of Directors, and has continued to support us throughout the development of our program. UGC provides all of the facilities of the golf course, and we make extensive use of the driving range and teaching facilities. The clubhouse also welcomes us at refreshment time, perhaps the favourite part for some of our students.

UGC Tuesday Ladies Golf Club
Our Tuesday Ladies Club continues to provide funds to be used towards our ongoing program of introducing the wonderful game of golf to Vancouver's inner school kids. The generous spirit the ladies have towards our program prompts us to wish each of them a lifetime of great golf at the University Golf Course.

UGC Mid-Week Men's Club
The UGC MWMC has designated us as their charity since 2007. They run a 50/50 draw at various luncheons, Putt-A-Rama competitions and in addition they recommend individual members donate whenever possible. Members of this club are also members of our Volunteers Program. Our seniors golf club supports the efforts of the UGC Junior Golf Society in their efforts to give a real golf experience to kids who ordinarily would not have such an opportunity.

Kiwanis Club of Vancouver
Through their matching program of the donations of our Director and Kiwanis member, Mr Don Renshaw, much appreciated funding has been received for a number of recent years.
TELUS Community Board
Telus has provided UGC Junior Golf Society with generous grants in prior years. Those grants were made because the mission and focus of our Society is consistent with those of the Telus Community Investment program. As noted by Telus, their philosophy is "… to help build healthy, sustainable communities, with a particular focus on empowering youth to reach their full potential… so that they can make a positive difference in their own lives and those of others." We believe that our program delivers those benefits to the inner city school participants and their families.